"I highly recommend reading this with your child so that you are both knowledgeable and ready to accept anyone for who they are."
– Literary Titan
PRICES: Book £11.99
Postage UK per book: £2.95  EU per book: £5.50
If you wish to order multiple books or for delivery outside the UK please email estherrobinson29@gmail.com for a quote.
Payments are taken via PayPal but if you don't have a PayPal account please follow the link that says 'Pay by Debit or Credit Card'. If you would like your book signed and dedicated please send an email directly to us after you order.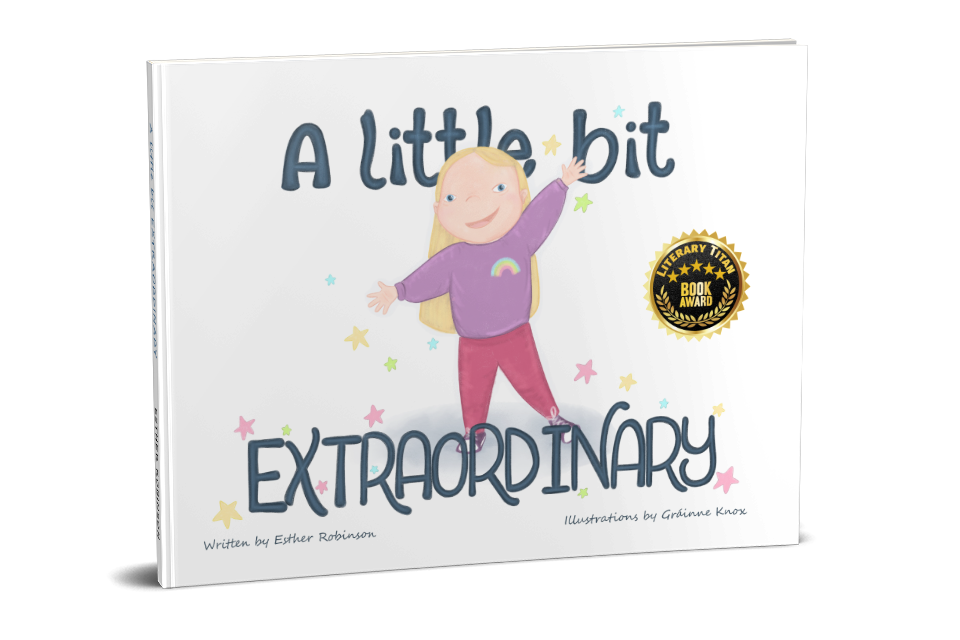 A little girl called Juliette, who has Down's syndrome, shares her feelings, hopes and dreams in a story that will delight and inspire young readers, encouraging them to discover their talents, reach for the stars and behave with more love and kindness.
'A little bit EXTRAORDINARY' encourages empathy and understanding while highlighting the importance of integration in schools and communities.
Heartfelt rhyming words and captivating pictures help readers understand Down's syndrome in a simple and engaging way. Juliette encourages people to celebrate difference, create a caring community and prevent bullying.
This book will guide adults to see the potential in all children and to nurture their emerging talents. Children and adults will learn together that when a decision is made from the heart, it is always the right decision. Everyone can achieve something 'a little bit extraordinary'.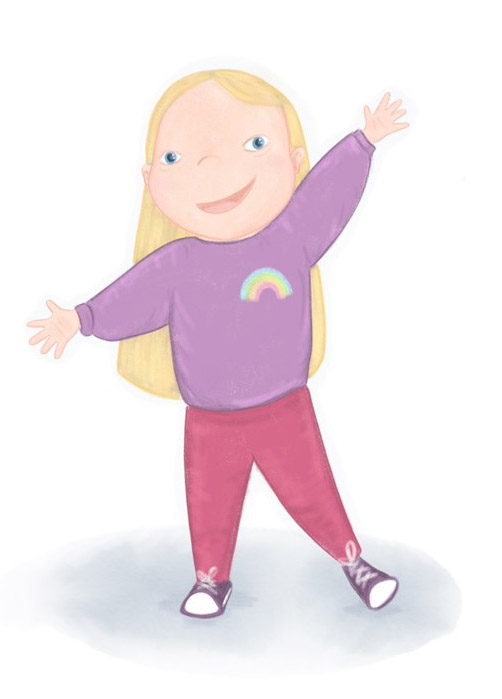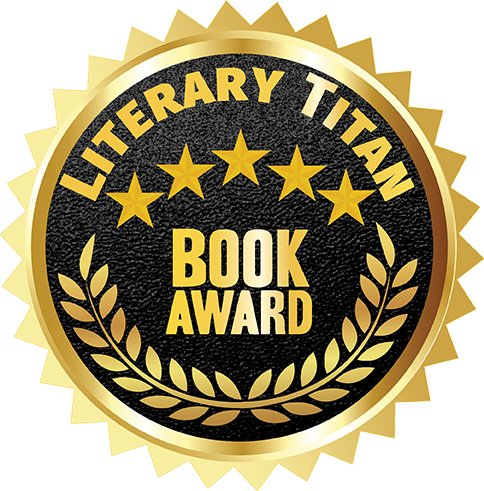 Gold Award
The Literary Titan Gold Award is bestowed on books found to be perfect in their delivery of original content, meticulous development of unique characters in an organic and striking setting, innovative plot that supports a fresh theme, and elegant prose that transforms words into beautifully written books.
What People Are Saying About The Book
"I recommend this book to parents, teachers, and even adults, like me, who don't know much about Down's syndrome. There are more than a dozen talking points provided at the end of the book. This really highlights the major benefit this book has; it begins a discussion. Whether you know someone with Down's syndrome or not I highly recommend reading this with your child so that you are both knowledgeable and ready to accept anyone for who they are."
"'A Little Bit EXTRAORDINARY' is an excellent teaching resource, which we used throughout the school during Anti-Bullying Week, November 2020. The book beautifully illustrates and explains the celebration of being unique. Feedback from pupils and staff has been very positive and the children ask to hear the story again and again, which is always the real test of how good a book is."
"I read 'A Little Bit EXTRAORDINARY' to a group of very special Fresh Little Minds this weekend and they loved it. This is exactly the type of book that the world needs now. The messages are for the type of world that we urgently need to nurture and this story provides adult and children readers with a touching insight into the lives of EXTRAORDINARY people everywhere, softly challenging perceptions and helping us see the potential and greatness in everyone."
"This beautifully written book by Esther Robinson tells about life with Down's syndrome from the perspective of Juliette. The heart-provoking verse gives valuable insight into how the condition affects the life of those who have it and, most importantly, how the reactions and behaviour of others impact them. I learnt so much from this inspiring piece of creativity. It brought a resonance to my heart and a lump to my throat, never mind the tears in my eyes. If there was a list of recommended reading for every home, school, library and childcare facility, "A Little Bit EXTRAORDINARY" should be on it. Thank you Esther for sharing your talent with the world."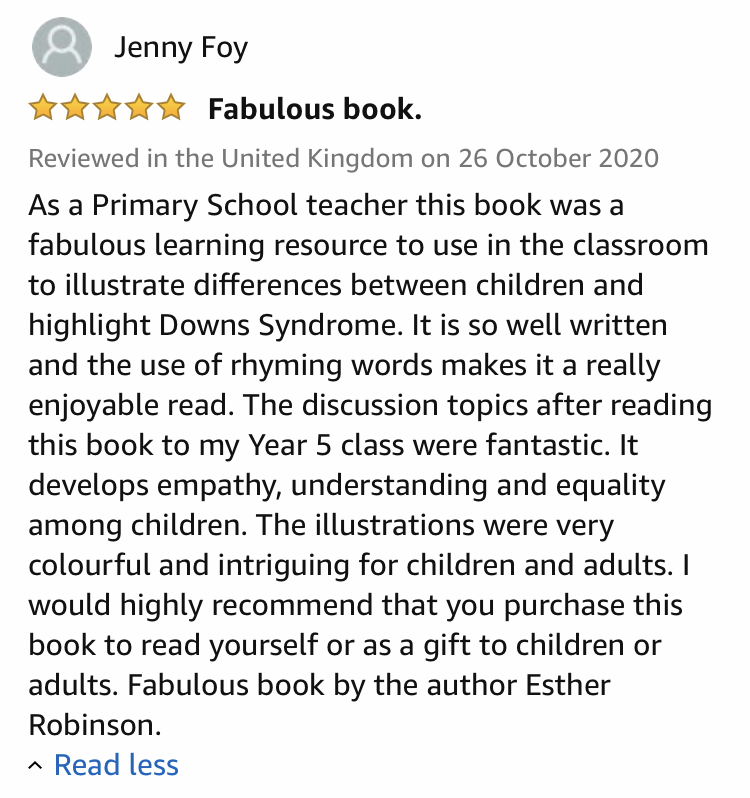 "We received our copy of this truly beautiful book the other day, and from the moment I started reading it I knew it was a book that every child/family should own. It is so incredibly heartwarming and touches on so many important factors, such as kindness and accepting people for who they are. I am so happy this book is out there in the world. My children really enjoyed listening to it. Both the words and illustrations are a delight. It's simply wonderful. Congratulations to you Esther – you should feel very proud."
"I never thought I would enjoy a children's book as much as this one. Esther touches on important points in a child's life, but in a very clever way. Even as adults we have so much to learn and this book – although designed for kids – has enlightened me. The story is based on a child with Down's syndrome teaching us that we are all so unique and that there are no limits to what can be achieved. We all grew up with fairy tale stories and I believe this is a staple book for the home and classroom to teach us it's ok to be different. I look forward to reading this story to my little boy, teaching him to be kind and follow his dreams!"
The little bit EXTRAORDINARY blog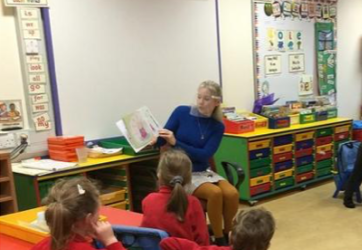 Being Guest Author for Book Week November 2020 was an amazing experience. Reading 'A little bit EXTRAORDINARY' to seven classes prompted lively discussion with pupils and teachers about being an author, publishing a book and, most importantly, the values my book...
read more
Word Surgery – Does Your Project Need Editing or Proofreading?
"Books play a vital role in educating, inspiring and informing people and I love having a part in that process. We all aspire to be the best version of ourselves and a book should be no different. With over 20 years' experience editing books and newspapers, I polish people's prose with passion, making it the best it can be. I work meticulously – with an eye for detail – checking facts, grammar and consistency in style and tone, while maintaining the author's voice and adhering to house style where specified.  
Skills: newspaper page layout sub-editor; technical editing; substantive editing; academic editing; proofreading; copywriting; feature writing; and blogging.
Proficient in Cybergraphics Genesis Editorial System, MediaGrid, QuarkXpress, NewsEditPro IQue, MS Word, MS Excel and typesetting.
Areas of expertise: B2B books / journals; daily and weekly newspapers; holistic health; spirituality; energy healing; reflexology; life coaching; and mindfulness / mental health.
I am professional, reliable, organised, courteous and friendly.